All about Jumping Pillows
Over 9000 Jumping Pillows have been installed throughout Europe and have recently expanded into Australia, New Zealand, USA, Canada, UK
and now…
SOUTH AFRICA!
Its the GIANT ...

Great Exercise! Mountains of FUN!
Made from a 'durable canvas', this unique concept distinguishes the Jumping Pillow from any other product in its category.
Specially designed with SAFETY in mind, Jumping Pillows are a fun way to exercise.
Jumping Pillows SA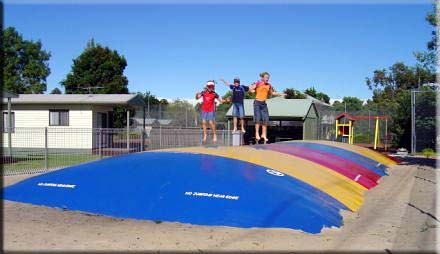 Jumping Pillows are a huge attraction.
Running costs are low and maintenance on the Jumping Pillow is minimal.
Jumping Pillows are suitable for playgrounds, resorts, hotels, schools, sports clubs, party venues and even Filling Stations.
Jumping Pillows provide hours of fun for the whole family.